"I imagine one of the reasons people cling to their hates so stubbornly is because they sense, once hate is gone, they will be forced to deal with pain."
― James Baldwin, The Fire Next Time
I don't sleep well. At all. So, in the wee hours of the morning I'm wide awake — revisiting moments, connecting dots past, present, and future. It's the way I create, in my real and imagined lives.
But last night was a bit different. Last night, I couldn't connect any dots — not one. And the only moments I continued to revisit were what I imagined filled the seconds preceding the deaths of the nine Chicagoans shot dead on Wednesday. Nine people, only two of them connected with one another, across one city, gunned down.
• At 11:34 P.M., Dan Rance, 23, was standing outside on North Long, the block where he lived, and 60 seconds later, was shot in the chest and torso by someone who just walked up to him and opened fire. Rance was transported to a hospital, where he was pronounced dead.
• Two hours ahead of Rance, 19-year-old Jimmy Tripp suffered the same fate on Chicago's South Side. The shooter walked up, opened fire, striking Tripp several times before running away. The teen was pronounced dead at the scene.
• A yet unidentified 60-year-old man was found dead from a gunshot would to the head in the hallway of a building in South Shore, just before 9:00 P.M. His death is suspected to be drug related.
• 5:30 P.M. on the Northwest Side saw a fisticuffs of three-against-one escalate, leaving another 19-year-old, Daniel Guerra, dead from gunshot wounds to his neck and chest. Two other men were shot during the clash, one in the back, the other in the hand, ages 23 and 22, respectively, but survived.
• Maybe it was the end of workday for these three men as they stood outside in a South Shore neighborhood at 9:00 A.M., conversing as brothers do; perhaps it was the beginning of it, I don't know. What I do know is that someone walked up and opened fire on all three of them. Vuan Evans, 25, did not survive the ambush.
• The North Side cradled its dead at 2:15 A.M., when two men, ages 32 and 34, with reported gang ties, succumbed to multiple gunshot wounds.
• The deadliest Wednesday since July 5, 2003 began on the West Side at 12:20 A.M., when a 25-year-old man was found dead, with gunshot wounds to the head, chest, and groin.
• The accidental shooting death of 11-year-old Antwone J. Price occured at 9:00 P.M., at the hands of a relative who is currently in police custody.
I'm fairly certain that my unrest tonight will be centered on the families: victims' and shooters'. I'll let you know.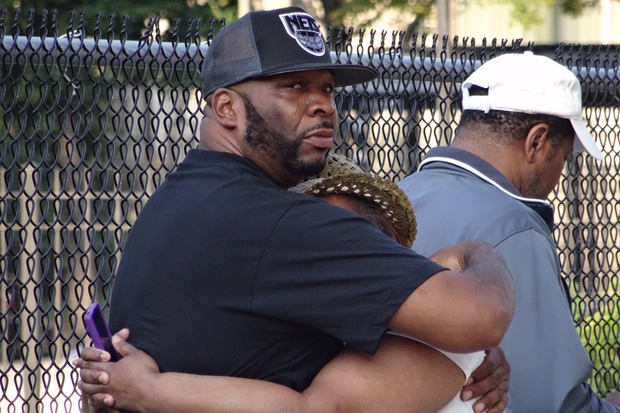 Comments
comments