"In the beginning—and neither can this be overstated—a Negro just cannot believe that white people are treating him as they do; he does not know what he has done to merit it. And when he realizes that the treatment accorded him has nothing to do with anything he has done, that the attempt of white people to destroy him—for that is what it is—is utterly gratuitous, it is not hard for him to think of white people as devils."
― James Baldwin, The Fire Next Time
In August 1955, a 14-year-old black boy from Chicago, visiting with two of his cousins in Money, Mississippi, is said to have whistled at a 21-year-old white woman in a grocery store. That action resulted in the child's brutal murder at the hands of three white men.
When the youngster's beaten, bullet-ravaged body was returned to Chicago for burial, his mother insisted on an open-casket funeral and allowed photographers to capture images of his monstrously battered frame. Those images sparked outrage and action, fueling the birth of social activism.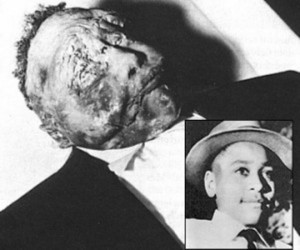 That child was Emmett Till, and on Friday, a procession of Till's family members and other victims of recent racially tinged violence travelled from historic Roberts Temple Church of God in Christ, where he was funeralized, to Burr Oak Cemetery, where Till and his mother are now buried.
Simeon Wright, Till's cousin, vividly remembers the incident, which he recounted during a 60 Minutes interview in 2004 with the late, great Ed Bradley:
"When he whistled, we all - we ran," he said. "We jumped in the car and we got out of there. "
"Just because he whistled?" asked Bradley.
"Oh, yes," Wright said. "If you're a kid and you throw a rock and break a window, you don't hang around to see what's going to happen."
But three days later, the woman's husband, and his half-brother came looking for Till in the middle of the night.
Wheeler Parker, another cousin of Till's, was asleep in the next room. "Fear just gripped me because in my heart, I say, 'I'm getting ready to die.' And at 16, I wasn't ready to die. And I could just feel like the whole bed was shaking."
The men bypassed Parker, but found Till in the next room and ordered him to get out of bed, get dressed and come with them. Three days later, Till's badly mangled corpse was found in the waters of the Tallahatchie River.
In September 1955, an all-white jury acquitted the men of murder, who confessed a few months later, knowing they could not be retried. To this day, no one has served time for the murder of Emmett Till. Nor for the murders of Eric Garner, Michael Brown, Trayvon Martin. And the list goes on, and on, and on.
Comments
comments