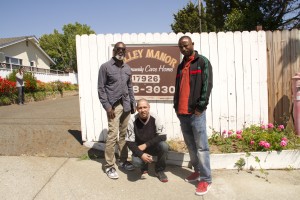 Two friends met each other over 15 years ago. One Latin, one African American. Maurice is outspoken while Miguel is more quiet and reserved. Yin and Yang. However, they've formed a bond tight like brothers. Both of them look like they could be from the wrong side of the tracks. At first glance, you could picture middle aged white ladies clutching their purses and scurrying to the other side of the street as these two walk down the sidewalk. But see, in this day and age of stereotypes, racial profiling and racism, there's a lesson to be learned here; no matter what you see on the exterior, you never know what's in someone's heart.
Back in 2013, Maurice Rowland was working at Valley Springs Manor in Oakland, California as a cook. His friend Miguel Alvarez was in need of some extra money to help his wife out with Christmas for their kids. So, Maurice helped his friend get a job as a janitor within the facility. Two friends. Just working, trying to make it.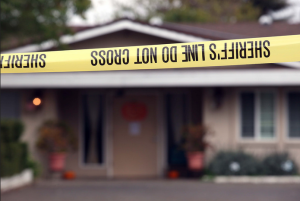 Valley Springs Manor's troubles began way before Maurice and Miguel started working there. The nursing home had received a number of sanctions for everything from a lack of proper cleaning supplies to not having a licensed nurse on duty. Fines and penalties began to stack up on top of each other until eventually, the nursing home was shut down.
"It wasn't just one day, it was like slowly but surely everybody was leaving. One day it was two people, five people. The next day it was 3 people the next day it was like two. Then it came down to one person. Then, we didn't see nobody," offers Miguel, describing how things progressed as the staff  learned they weren't going to get paid. The owners were nowhere to be found. The managers were nowhere to be found. And the employees were showing up to get their checks, but they were coming up blank. That's when Maurice and Miguel realized it was "crunch time." They realized "if we left", the residents of the nursing home wouldn't have anybody. How would they eat? How would they receive their medication? Who would bathe them? So, the duo rolled up their sleeves and got to work. For several days, Maurice and Miguel cooked for the residents of Valley Springs Manor. They helped them get in and out of their beds, they bathed them and did the best they could to ensure they received the proper medication. They were by no means qualified to distribute medicine to those people. But, they tried. Their attempts led to some of the residents being given the wrong medication, or improper dosages. But they still kept at it, even being compelled to call 911 several times throughout the ordeal as some of the residents got sick. This continued until ultimately, the remaining residents were removed from the nursing home via ambulance. Maurice never got paid. There was no help for his wife to get Christmas for their children that year. But, blessings come in different forms.
They received an award from the American Veteran's Association and their acts of heroism actually led to the Residential Care For the Elderly Reform Act of 2014 being handed down by the California legislation. "The law made sure that if this were to happen again, that no one would be left behind." They also received a certificate of special recognition from Rep. Eric Swalwell and a commendation from the California legislature. It seems to me that the state of California should have seen to it that these guys received some nice jobs in the healthcare industry. But that's just my opinion. Several companies stepped up to offer employment. But, nothing ever panned out.
Their ordeal began to catch on, and filmmaker Miles Maker caught wind of it through NPR. He knew there was a story to be told and he felt a responsibility to bring the film to the screen. But first, he had to find them.
Maurice and Miguel weren't too easy to locate. But they weren't exactly hiding out. They just faded back into their normal lives. They weren't on Facebook. They weren't tweeting and bragging about the things they did at the nursing home. It wasn't a big deal to them at all. "It was what we were supposed to do," Maurice says nonchalantly during a recent phone conversation. They simply did what they did out of the kindness in their hearts, not for fame, brownie points, or pats on the back. It was just good human nature.
It took a lot of diligence on behalf of Miles Maker to find them. He read articles, did Google searches, made some phone calls. And eventually, he tracked them down through a bank that ran a fundraiser for the two. Miles has 10 years of experience as a filmmaker and says what makes this project so different than any other is that he feels a "great responsibility and obligation because these are real people." Throughout the conversation, Miles made it clear that he has a sense of loyalty to Maurice and Miguel as human beings. He wants to be sure he gives an accurate depiction of what happened at Valley Springs Manor.
When asked what the movie is all about, Miles explains "If We Left, is about two lifelong friends that were working at an assisted living home that got shut down by the state, and when all the other employees left; these two guys decided to stay. And the main quote, Miguel said it in an interview and it kinda got stuck in all the media 'if we left, they wouldn't have nobody' and it was just that simple of a comment…they realized they couldn't leave those people."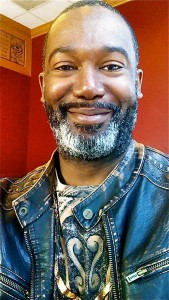 Click on the play symbol below to listen to what Miles Maker has to say about "If We Left."
I believe this is going to be an excellent film and I can't wait to see it. Please show your support and click here to donate money to raise the film. Miles insists, the movie is going to be made. Don't let the fact that they haven't yet reached their goal deter you from donating. Whatever funds are raised will go towards the project, and he is currently speaking with investors.
Comments
comments