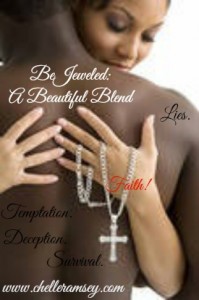 It's important to keep the spice up in any relationship. Whether you're a married couple or simply dating you have to keep it interesting for one another. Sometimes, you just might find yourself in a compromising situation. In these instances, you simply have to go with the flow and do you!
This #writerwednesday I'm sharing an excerpt from BeJeweled: A Beautiful Blend, book three in The House of BeJeweled. Olivia finds herself in such a position. Will she or won't she, that is the question…
BEJEWELED: A BEAUTIFUL BLEND
Engrossed in paying invoices, Olivia didn't hear the knock at her door. It wasn't until he was standing behind her placing his hands on the back of her chair that she noticed she wasn't alone.
Jumping in her chair, she quickly swiveled around. "Ray! You startled me! How'd you get in here without me hearing you?" she asked, standing up and wrapping her arms around her husband's neck.
He kissed her lips. Olivia opened her mouth to allow his tongue entrance, offering a sweet tang, which came from the strawberry lemonade she was sipping on.
"Mrs. Ellsworth, I just can't get enough of you, girl. I wonder if you taste this good all over," he murmured against her neck as he blazed a trail of kisses down to her breasts.
Olivia threw her head back, not denying him access to her full cleavage that burst forth at him through her low V-neck blouse.
"Mmm, why are you starting something you can't finish, Mr. Ellsworth?" She chuckled at the sound of her own voice. To her ears, she sounded like a sex crazed vixen.
"Who says I can't finish it?" he asked, sliding one hand up her split along the back of her thigh and fingering the black, lacy panties she wore underneath her black pencil skirt.
"I'm at work, that's why," she explained, shimmying against his hand, trying to prevent him from accessing her body.
"Mm-hmm, and you're the boss, so you make the rules. I've been written up for subordination and I think I need a disciplinary action. Tell me how you want it…in the chair, or on the desk?" he groaned.
PICK UP YOUR COPY OF BEJEWELED: A BEAUTIFUL BLEND TODAY.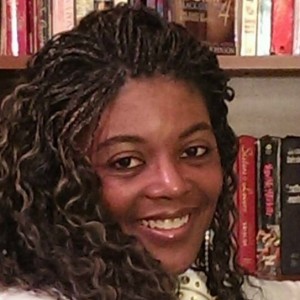 UNDENIABLY CHELLE
Follow me on the web:
Website: http://www.chelleramsey.com/
Blog: http://www.chelleramsey.com/beautifully-inspired-blog
FB: Chelle Ramsey
Twitter: ChellesBooks
Instagram: chelleramseybooks
Amazon: Chelle Ramsey
Comments
comments