Latest in: All Blog Posts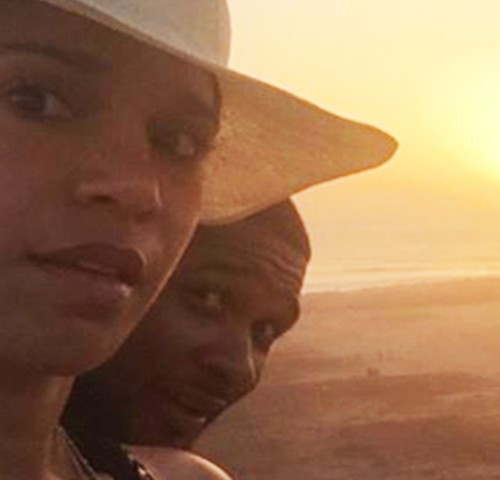 My Boo Usher Raymond is off the market again! Damn, Damn, Damn! LOL…Reports are surfacing that Raymond and his manager Grace Miguel recently honeymooned in Cuba. While Usher and Grace haven't confirmed the news, a quick look at Mrs. Raymond's Instagram might be all the confirmation we need. Speculation of the marriage first began...
Gabrielle Union star off BET's Being Mary Jane in an interview with Redbook,when weighing in on whether women can have a career and family responded "not really."  Which is an opposite position from what her role of Mary Jane who longs for motherhood.For Union, it's her professional life that's the...

Everyone could use a good cocktail to start off their weekend so I will be sharing UIM's "Thank God It's Friday Cocktail" recipes with you every Friday! This will give you some alternatives of new drinks to try to spice up you weekend or anyday for that matter! Cheers!...

So everyone is buzzing about what a great movie "The Perfect Guy" is. I personally haven't seen it yet. (I know I'm late) but I plan to take myself on a date this weekend to see my Boo Morris Chesnut on the big screen once again. You see he...

The strikingly beautiful Lupita Nyong'o stuns once again as she lands her second Vogue cover. The flawless, 32 year old Kenyan dons a Valentino Haute Couture dress while posing on the cover of the world's most influential magazine, in its October 2015 issue. "I didn't know the power...

Avant's new CD, The VIII (The Eighth) will be released next Friday, September 25th. The Cleveland native says that he's happy to have lasted this long in music. "It's my eight album and I named it The VIII because I'm proud," he says. "It's got some great material on there. People...

A&E Networks' remake of Roots, the network announced Wednesday that Forest Whitaker, Anika Noni Rose and Derek Luke are among the actors newly cast for this remake. Whitaker will play Fiddler, a slave who risks his life trying to mentor and aid in the escape of protagonist Kunta Kinte....

Leolah Brown, is insisting that her late niece Bobbi Kristina and Whitney Houston were murdered, and the truth will come out in due time. In an interview with Inside Edition that aired Wednesday, Leolah spoke about losing her 22-year-old niece this summer. "This was no accident," she said. "I will never believe this...

...

Rapper and music mogul, T.I. has cut ties with Iggy Azalea after standing up for her time and time again.Although there doesn't appear to be bad blood, T.I. does acknowledge her hype has taken "a bit of a rest stop" and cites numerous instances that led to a wedge...

Shots of Beyoncé in a one-piece swimsuit earlier this week fueled speculation Blue Ivy was going to become an older sister. I personally saw a pic over a month ago that looked like Ms. Bey was expecting. Well, while on her family vacation to Italy a photo was snapped of...

Floyd Mayweather's Sept. 12 bout with Andre Berto at the MGM Grand Garden sold roughly 400,000 pay-per-view units. Another source close to the promotion of the fight said the figure was higher and estimated it between 500,000 and 550,000. The result will be the lowest figure since Mayweather sold 325,000...

So apparently Suge Knight is scheduled to go to court on a robbery case stemming from when he and Katt Williams allegedly took a  celebrity photographer's camera in September 2014.  Wow that's robbery? I thought stars took and destroyed paparazzi's cameras all the time. But yeah they are forming cases...

After having graduated with a 5.1 grade point average (gpa) on a 4.0 scale from Kenwood Academy, former valedictorian Arianna Alexander has been accepted into 26 colleges, totaling more than $3 million in scholarship offers. Her plans are to study business at the University of Pennsylvania. "It was...

14-year old Ahmed Mohamed likes to tinker with things. His bedroom is filled with gadgets, circuit boards, soldering irons and wires. The promising young 9th grader, who happens to be a follower of the Islamic faith, made a digital clock in the confines of his bedroom. Proud of what...

Sidney Starr's Facebook post from September 14 has the internet buzzin'. She posted a pic of her and Kell's at a video shoot and said, "Today I made history! I was one of the video girls in R Kelly (sic) music video ! R and B legend SuperStar R...

We know him from the hit VH1 show Love And Hip Hop Hollywood, Miles (Siir Brock) just dropped his first video for his single "West Coast" featuring Ashad! I watched the video and truly enjoyed the vibe to it. I look forward to seeing what he has coming next. You...

Last night's episode begins with a swagalicious Soulja who is in a good place with on-off girlfriend Nia. Like every other woman on this show, she's quick to complain about her beau's infidelities, but even quicker to forgive. Lil Fizz is working hard on a mix tape, and he's excited to...

An audience member got banged up at Mike Epps' comedy show in Pheonix. Some media outlets allege that Epps ordered his security team to attack the injured man. However, this eyewitness account from a bystander says otherwise:...