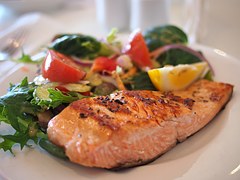 According to the U.S. Department of Agriculture, eating healthy should not primarily consist of restricting one's diet, becoming unrealistically thin or denying favorite foods. Maintaining a high level of energy, feeling healthy and improving one's overall outlook in life; while stabilizing emotions, are all key to a better lifestyle. Studies show that consumers who eat a diet which consists mostly of red and processed meats, takeout foods, packaged foods and sugary snacks, often experience a higher rate of anxiety, bipolar disorder, depression and stress related illnesses. Additional studies have proven that unhealthy eating may also play a large role in the overall development of mental health disorders, including ADHD, Alzheimer's disease schizophrenia and suicide.
"Eating a diet rich in fruits, vegetables and more in-home cooked meals often reduce fat and sugar intake. Healthy eating and proper exercise may aid in the length of an individual's lifespan," says Dr. Henry L. Abrams, author of "It Begins with Me: Healthy Eating in the 21st Century," offers five steps to healthy eating.
Focus on what you're already eating by evaluating your food intake. Eating more colorful fruits and vegetables is most beneficial for your overall health.
Limit your intake of  red meat. Gradually beginning the process of eating healthier meats which include fish, chicken and other poultry are far better for the digestive and nervous systems.
Drink more water.  Avoid drinking too many sugary and carbonated drinks. Not only do these drinks often leave us bloated, they increase the risks of bladder, urinary and kidney diseases.
Discontinue eating at fast food restaurants on a regular basis. The more carefully food is prepared from home, the better.
Choose the diet plan which is most beneficial for you and your family. Some family members may wish to maintain their diets, but reduce the portion sizes. Others may choose to switch to a completely different meal plan altogether. Understanding the needs of every family member is often helpful to the maintenance of healthy eating practices.
Comments
comments