Everything boils down to race. Every.Thing. You'll tell me it shouldn't. I'll prove to you that it does.
Case in point, the excerpt below was penned by my brilliant, award-winning writer friend Scott Poulson-Bryant, author of HUNG: A Meditation on the Measure of Black Men in America  and The VIPs. 
Even in the world of transgender identification — is that a term? — I am reminded of Jim Crow laws. Why? Read Scott's post below. To read the Vibe article in its entirety, I've embedded the link at the bottom of the post.
As I observe the interest in Caitlyn Jenner's transition, I remember an interview I did with Dennis Rodman, almost 20 years ago in 1996, the summer after he appeared on the cover of Sports Illustrated dressed in a negligee…The pics that accompanied the VIBE article featured an oft-nude Dennis in full make-up, and pretty much no athlete was discussing this kinda stuff back then, let alone doing drag on a national stage.
I re-read this part of the interview and remember how freaking young I was. I also remember grappling with Dennis' use of "fag" and deciding to keep it in the interview because he said it, but also because we talked about it a bit a coupla days later when I heard him use it with his gay and trans friends who were also using it with him. He also chastised me for using the descriptive "drag queen," preferring "female impersonator" instead…he also asked me if I was gay or bisexual when I didn't bat any eye at the fact that virtually every nightclub we went to was gay. It was an interesting 3 days, to say the least.
There are questions I'd phrase differently now, and further questions I'd probably ask, and one or two scenes I'd include. But it was quite a conversation to have with a major American athlete in 1996, and I'm glad I had it.
SPB: …you've gone on record as saying you're probably bisexual. Have you acted on it?
DR: You know, every so often you think of someone of the same sex. Anyone who says they don't think about it is lying, 'cause they do.
SPB: So why haven't you acted on it?
DR: It's not my calling at this particular time. You can't just say, Fuck, I'm gonna do it and see if I like it. You gotta do it 'cause that's what you *feel*.
SPB: So you don't feel any backlash from other players like they might not like to be dressing in the same room where someone might be attracted to them? Or do you not find basketball players attractive?
DR: Basketball players are very sculpted with nice physiques. You gotta say, that guy has a nice body. That doesn't make you a fag, It's just a compliment.
SPB: But a lot of men would be scared to compliment another guy like that.
DR: It's not my intention to go into the locker room and think some guy has a big dick [laughs]. I'm not, like, looking forward to dating a man or something like that. But the option's always there.
SPB: Given the homophobia in sports, isn't the mere fact that you're saying this a way of courting disaster?
DR: I don't give a fuck. You can't shut anything out.
SPB: You have a lot of female impersonators for friends. What is it about drag queens you find so attractive?
DR: I like that they're taking chances on life and hoping everyone accepts them.
SPB: Well, you could be considered a drag queen in a way, right?
DR: It wouldn't hurt.
SPB: So is this Dennis the Free Spirit talking or Dennis talking for shock value to sell books?
DR: Look, you have to experience a lot of different things in your life to make your life complete. It's hard to enjoy your life when it's just one-sided. You gotta go on the other side.
(shout-out to my amazing friend and editor, on this piece and every other good piece I wrote for VIBE, Mr. Ben Mapp…and if you wanna read the entire interview, a link is here: https://books.google.com/books…)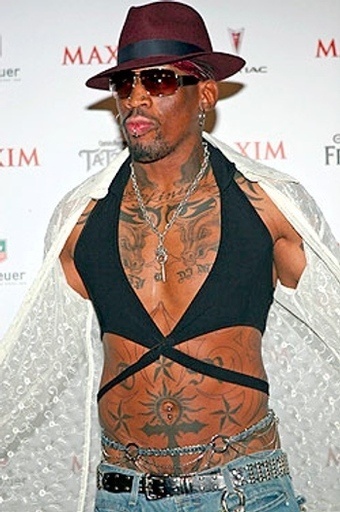 Comments
comments