Latest in: Food and Nutrition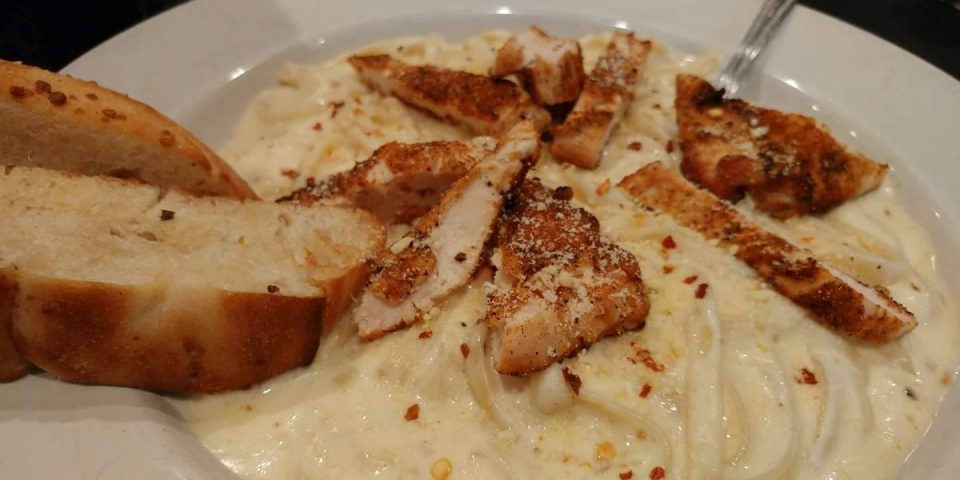 Garlic Alfredo is known for it's creamy consistency and smooth texture. In one of Mindy's favorite recipe's, she adds Herb Crusted Chicken for a delightful combination that's sure to pleasure your tastebuds. What you need for the Garlic Alfredo sauce… 1/2 cup real butter 1 pint heavy whipping cream (2cups) 4...
Drake partnered up with Chef Susur Lee and opened up a restaurant last night. Drake didn't really promote or talk about the opening much except for a few coded tweets. The restaurant opened last night with Jada Pinkett-Smith, Jaden Smith and suspected girlfriend Serena Williams, who hung out with...

At 79 years old, Mrs. Ernestine Shepherd is in much better shape than most people several years younger. Declared in the Guinness Book of World Records as the oldest living female body builder, Mrs. Shepherd's day begins at 3:00 a.m. Every morning. Beginning with scripture reading and prayer,...

If there was ever one piece of advice we'd like to take from our moms, it might be to "eat your broccoli!" The vegetable which is a part of the cruciferous family including Brussels sprouts, cabbage, cauliflower, garden cress and bok choy, is one of the world's best health-boosting foods....

According to the U.S. Department of Agriculture, eating healthy should not primarily consist of restricting one's diet, becoming unrealistically thin or denying favorite foods. Maintaining a high level of energy, feeling healthy and improving one's overall outlook in life; while stabilizing emotions, are all key to a better lifestyle....

Annette Larkins seems to have found the secret to everlasting youth. She maintains her youthful appearance by eating lots of raw fruits and vegetables and by drinking plenty of water. At 73 years old, Larkins is often mistaken for the daughter of her husband, to whom she's been married...

For decades people have been stuck on Soda's some with caffeine and some without. Years ago when Coca Cola first came out it had Cocaine in it (I think we all know that.) But these day this popular drink still has people feening for it refreshing bubbles. Have you...

"This weekend's competition was amazing! Thank you to all my supporters who came out," said fitness guru, Wendy Ida. "This was a huge national competition and it has grown immensely in the three years since I last competed, but at 63 I still pulled out 2nd place at this...

To me summer time is all about spending as little time as possible in the kitchen. And to e that means salad. I found a great pasta salad recipe for you all to try. Video Credit:I Heart Recipes You can make your own variation for this salad. Like I would...

No Fourth of July Celebration would be complete without your adult beverages. So here I came up with some recipe videos to help get you into the patriotic spirit! Red, White and Blue Shot Video Credit: DrinkLab Cocktail Recipes 4th of July Patriot Punch Video Credit: Tipsy Bartender 4th...

No back yard barbecue is complete without a pan of Mac & Cheese. Making Mac & Cheese is very easy for some but can be disastrous for others. Making boxed Macaroni and Cheese for anything outside of preparing a quick night time dinner for a 6 and 7 year...

There's nothing like some good tender ribs to set off your BBQ. I found a recipe that could be used for either in the oven or out. In the video she uses the oven but my suggestion would be to take her recipe and techniques and pop these suckers...

Everyone loves a good BBQ Sauce. Well I found a recipe that is easy to do but will take your Fourth of July BBQ to a whole new level. Wow your guest with this sweet spicy sauce! Video Credit:http://www.southernliving.com/food/how-to/sweet-spicy-bbq-sauce-video ...

Marinated Gilled Chicken: INGREDIENTS: 2 tablespoons Worcestershire sauce 2 tablespoons low sodium soy sauce 2 tablespoons teriyaki sauce 1 teaspoon liquid smoke flavoring 1 tablespoon molasses 1 tablespoon sesame seeds 1 tablespoon brown sugar 1 teaspoon paprika 1/2 teaspoon garlic salt 1/4 teaspoon garlic pepper 2 teaspoons minced garlic...

VEGAN MACARONI & CHEESE: Peep the video for step-by-step cooking directions....

VEGAN FRIED CHICKEN RECIPE Ingredients: 3 1/2 cups Canola oil, for frying 2 teaspoons salt-free seasoning blend 1 1/2 cups all-purpose flour 3 tablespoons nutritional yeast 3 tablespoons yellow mustard 1/2 cup water 2 tablespoons baking powder 2 vegan chicken breasts (Gardein is the cook's preferred brand) Cooking Directions:...

Peep the video and cook along, or scroll down for the recipe: Baked Cajun Catfish 1 Tbsp. vegetable oil 1/2 tsp. garlic powder 1/2 tsp. onion powder 1/4 tsp. pepper 1/2 tsp. cayenne pepper (more or less, depending on desired spiciness) 1 1/2 tsp. paprika 1 tsp. thyme 4...

Hey Peeps! It's ya girl, Mz. Jae, your fav Chicago Aficionado, checking and chiming in about the must have apps for Chicagoans! In 2015, everybody either has an IPhone or Android phone or at least a phone with apps. We use apps for everything including Social Media, directions, banking,...

Hey People! It's your girl, Mz. Jae, checking in! As I scan my newsfeeds on social media, I often times read catch phrases of women and men "claiming" to be bosses, in charge, holding things down, making things happen, etc. However, its contrary to their authentic selves- meaning they...

HAITI-KREMAS Ingredients 1 (14oz.) can of sweetened condensed milk 1 tsp of lemon zest 1 tsp of nutmeg a pinch of salt 2 tsp of vanilla extract 1 cup of Rhum Barbancourt® 1 (13.5 oz) can of unsweetened coconut milk POUR INGREDIENTS INTO A PUNCH BOWL AND STIR. CAIPIRINHA-BRAZIL (Brazilian cachaça-lime...

Ingredients U.S. Metric Conversion cha 2 1/2 pound(s) bone-in chicken pieces, skin removed 1/4 teaspoon(s) salt Freshly ground pepper, to taste 2 tablespoon(s) all-purpose flour 1 tablespoon(s) extra-virgin olive oil 5 large shallots, finely chopped (about 1 cup) 1 cup(s) dry white wine 1 1/2 cup(s) reduced-sodium chicken broth 1 medium carrot, peeled and thinly sliced 1 pound(s) button mushrooms, wiped clean and halved...