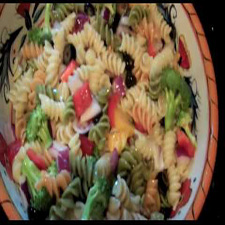 To me summer time is all about spending as little time as possible in the kitchen. And to e that means salad. I found a great pasta salad recipe for you all to try.
Video Credit:I Heart Recipes
You can make your own variation for this salad. Like I would have to add in me some pepperoni and I'd have to have some shredded Parmesan cheese in mine as well maybe even some small blocks of salami as well.Yep you can have all your food groups in one dish! LOL!  Anyway good luck and remember to post your food selfies!
Comments
comments