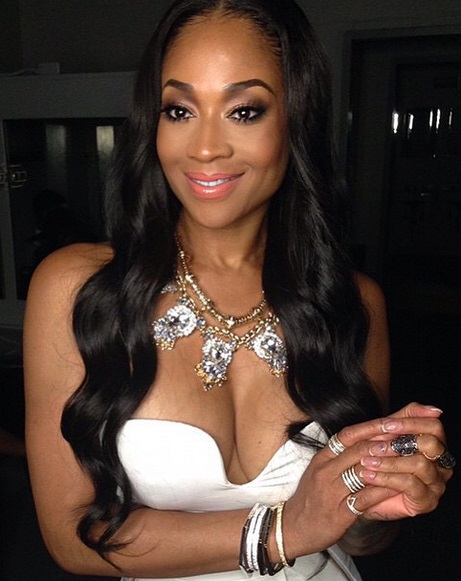 She first appeared on our TV screens in June 2012 during the season premiere of the now famed Love and Hip Hop Atlanta Franchise. Mimi Faust made time out of her busy schedule of filming, writing her book, running her side businesses and raising her gorgeous daughter Eva, to talk to me and offer an insight into her world. Check out my interview with her below!
Hey Mimi! Thank you for taking time out of your busy hectic schedule for this interview today. How are you and how's life been treating you?
I've been amazing thanks, it's been a crazy road for the last four seasons- well actually my entire life [Laughs]. But I'm finally in a place where I've grown and matured and right now just focusing on the positive things.

You were recently at the BET Awards 2015 as a Celebrity Guest Correspondent for CentricTV. I got a few glimpses of it this year, you did an amazing job! How was that experience for you?
Thank you for saying that! I have to admit I was nervous at first because I have never done something like that before. I'm always the one being asked the questions, so it wasn't something I was prepared for. Overall I had a great time, I got to see some friends, spoke to people I knew and got to meet new people. It was a great experience.  It was also enlightening to get out of my shell of what I normally do and try something different.
Let's briefly discuss last season's most dramatic reunion in Love And Hip Hop Atlanta history. In my opinion, I believe that particular people went there with a straight agenda. Would you agree? What was going through your mind prior to and during the reunion?
Prior to the reunion all I cared about was what I was wearing and making sure I had my daughter Eva situated, since I would be away for a few days. I never really go into the reunion with too much thought, there's no point in my opinion. Just be you and roll with the punches.  As far as during the reunion, it was an absolute melee before my eyes. It was just crazy and I was attacked so at that point the only thing going through my mind was defending myself, which I did rather well I might add [Laughs]. As far as people coming with an agenda, you know on these shows people always have an agenda. They always show up and prepare all sorts of shenanigans just to bring drama, which is fine for some, just not for me. I just like to show up, keep a smile on my face and remain ladylike.
Congratulations on MF Entertainment! What inspired you to have your own management company? Can you tell us who's currently on your artist roster and what's it like working with Stevie J.?
Thank you. I have always loved music and I have always been surrounded by people in the industry including creatives, artists, producers and music execs. I was with Stevie for so many years he was one of the most successful producers ever.  That being said, I've always been business minded and ran businesses, people would always ask for my advice and it just seemed like a natural progression for me. My roster is currently open – I'm going to figure it out and find the right artist. As far as working with Stevie, it's challenging.  Stevie is all over the place, but when he shows up, he has great stuff to say and add.
You just finished your book, which is a memoir of your life growing up, childhood, etc. When does it come out and what can people take away from reading it? What inspired you to write it?
Well you'll just have to wait until you read it 😉 Yes! I don't have a date yet. I'm learning the REAL publishing business right now. I'm going to be spending the rest of the summer writing it, and then figure out the right time to roll it out.  People can take away from it whatever they like – I would like them to see my life from childhood, and really just understand who Mimi is.  What inspired me? Two things. First off people always LOVE hearing me tell stories. They always have all types of reactions, from laughing, to crying, to just wow moments,  and they always ask me to retell them. And people are always telling me I "need to write a book".  Secondly, people always think they know you and they don't! Not even a little bit. They don't know the real me from the show, nor do they know where I came from. I think everybody is going to learn so much about me and really have a different perspective once it comes out.
How is your home cleaning service business going? How long have you been doing that?
It's going very well, I've been doing it since 2001 and it's been a success since.
What are your thoughts on NeNe Leakes leaving Real Housewives Of Atlanta after seven seasons and being there since day one? Do you watch the show?
Yes, I think she had a good run on the show and now she's moving on to bigger and better things, I understand that.
Let's talk Love And Hip Hop Atlanta. How has your life changed since becoming a part of this show? Do you have any regrets?
So many things have changed, I'm a regular person with a regular attitude, the show made me into a celebrity which I never meant to be. Having your whole life in the public eye can be tough for me. I try not to live my life with any regrets, I am happy with where I am right now in life , but if I could change something it would be to be a normal person with a normal relationship.
During the current season, Nikko has continuously said in many episodes that he's going to expose you. Where does your relationship with him stand today?
We have absolutely no relationship
You and Stevie have an interesting yet type of relationship that I don't think anyone understands but you and him. It seems that you both have learned to be cordial with each other and do the best for Eva. Would you agree? How is your relationship with Stevie and co-parenting today?
Yes, understand we were in a 15+ year relationship, we knew each other before that and we have our beautiful daughter Eva. Our relationship right now is wonderful I can say.
You have a very close relationship with Ariane. How long have you known each other? How do you think being on the show has affected your friendship?
Ariane and I have been friends for 12 years going on 13, being on the show definitely has its ups and downs and you sometimes look at your best friend sideways, but we get each other.
After being with Stevie J and Nikko, what would you say that you've learned from those relationships? Are you currently dating? If so, will we see him on the show?
I've absolutely learned a lot from both.  Currently I'm not seeing anyone, and I'm working on myself.  A better Mimi
Many reality stars don't watch themselves on the show they're on because they already lived the moment that airs so to relive it brings old feelings. Do you agree with that? Are you watching the current season of LHHATL?Yes, it absolutely does. But, sometimes it makes you look at what you went through in another perspective.  Then, there is always editing. Throwing that dynamic in the mix changes everything.
When Love And Hip Hop Atlanta is over for you-what do you want to be remembered by during your run on the show?
I want to be remembered for being an extremely real person.  A person that went through things, did things, and grew from them.  I will never stop growing and if you watch/ watched the show, I am the same girl but I have grown.
How do you think social media has affected you while being on the show?OMG. It is the best and the worst.  People are the sweetest, most supportive, most loving, and then there are the most evil people on there. But I've learned to take it with a grain of salt… People love to judge, throw stones, etc.  Most of them have their own issues going on. So I've learned to just accept people for who they are.. and everyone needs growth.  I have seen so many people on social media saying they hated me and now they love me. That they thought of me as such and such, but now I've shown them another side. So its fine, it is what it is.
I've been Team Mimi since day one. You have a personality that is classy, entertaining and just real on and off camera. Why do you think you're portrayed on the show to be an angry woman?
Aww, well first off THANK YOU. I really appreciate that and love you for the support.  I don't know really.. I mean, listen, I'm sweet and caring, but if you take advantage of me, disrespect me, etc. what do you expect? What would you do in that situation? What would ANYONE do? Not to mention, the editing.  They edit out all of the sweet stuff. You think they want you to turn on the TV and see Mimi Faust being sweet? Who wants that? It's boring. It doesn't get them ratings. But when you see someone trying to play me out, and see my reaction, and see me turn up, that's what they want to see! So they're going to portray more of that, and less of the real overall Mimi.  But all is say is this - when you see me, speak to me. Say hi. Everyone who meets me literally thinks I'm the polar opposite of TV Mimi.
Outside of being on the show, who is Mimi Faust? How do you keep yourself so strong and humble throughout it all?
Honestly, I'm just a REGULAR girl.  I play with Eva, I take her to school, I cook for her, I run my businesses, I do interviews, I go shopping, I work on new endeavors, I work out, I got to the movies, I love to go out and eat and pig out.
What can we expect next from you? Will you be back next season? What do you look forward to accomplishing next by end of 2015?
I can't say for sure if I want to return yet. But I have a few things in the works. I have the book I'm just completing a deal on, so I'll be busy focused writing that for the rest of the summer. I am dipping my foot in other creative endeavors, such as being the celebrity correspondent at the BET Awards.  I have a lot of offers for things, but I'm not sure what I will do and when I will do them yet.  As you know, between my VH1 life, Eva and my businesses, my schedule is extremely hectic and I'm rather confined to Atlanta often.  But I'm mapping it out.  I've also bought into a hair company which will now be my line - it's called The Maya Collection, so you will see a lot of activity from there. Then I'm starting my journey into interior design, I have a few projects in the works for that, something quite interesting actually.
Thank you again so much for chatting with me Mimi! Any shoutouts you'd like to give or would like viewers, supporters, fans, readers to know?
Yes! @mimifaust, mimifaust.com, @themayacollection.  If you love great hair, The Maya Collection is here and it's great. It's the hair I've been using forever.   If you've been #TeamMimi from day one I love you. If you've been #TeamMimi after, I love you. If you're #TeamMimi now I love you [Laughs].  And for those of you who don't, I really don't care, and I wish you the best. But I would recommend you guys keep an open mind.
Comments
comments