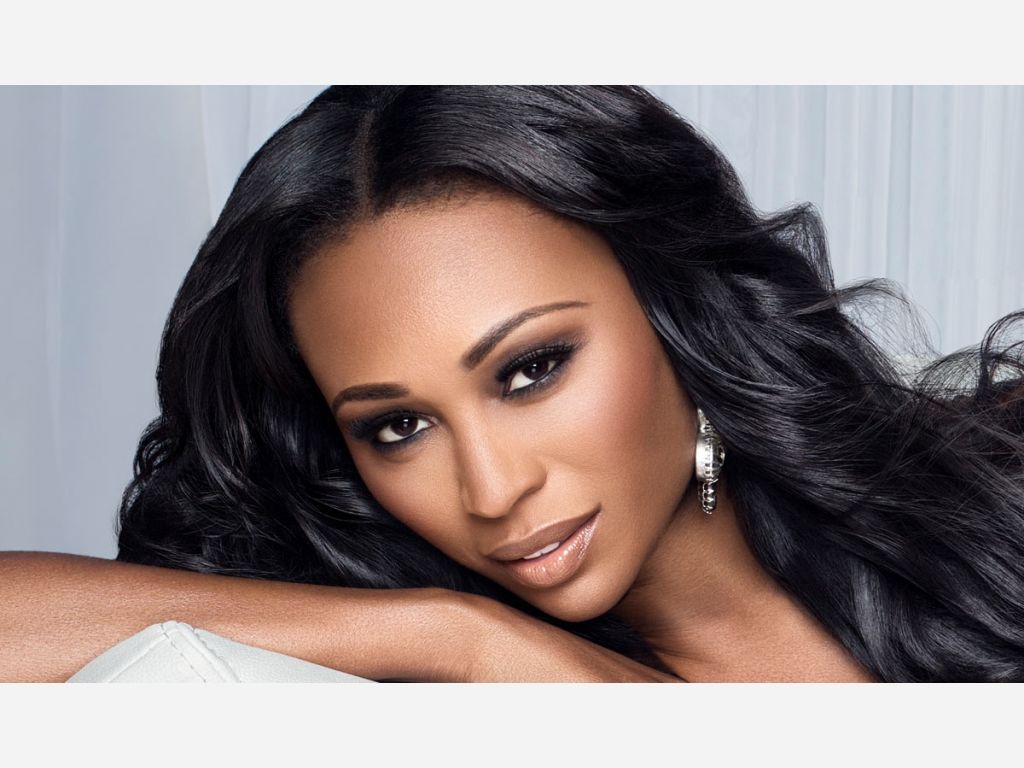 Cynthia Bailey, supermodel, wife, mother, entrepreneur and star of Bravo's Real Housewives Of Atlanta showed viewers her outspoken side during Season 7. In my exclusive interview with Cynthia, she dishes about her former friend NeNe Leakes leaving, gives us updates on what's new at 'The Bailey Agency School Of Fashion', her new, chic eyewear collection,  spills tea on Season 8 of RHOA and more! Read it below:
——————————————————————————————————————————————————————
Hey Cynthia! Thank you for taking time out of your busy hectic schedule for this interview today. How are you and how's life been treating you?
Life is great!  I am really busy traveling, working on several exciting projects, and spending time with my family.
You recently were at the Essence Festival and BET Awards 2015. How was that? What was it like having being a co-panelist with Noelle at the Essence Festival?
I attended BET Experience Weekend 2015 with my family, and featured my Cynthia Bailey Eyewear in the BET gifting suite. The suite was mostly celebrities, athletes, and tastemakers. They were really supportive and excited about the eyewear. I actually ran out on the first day! It felt great to get that kind of positive feedback, and validation from successful people who inspire me. My daughter Noelle did her first panel with me at The Essence Festival. It was a mother/daughter relationship panel. We talked about our relationship, and what makes it work. I thought she would be nervous because it was her first time, and she was the only teenager on the panel. She killed it! She was honest, funny, poised, classy, articulate, and very confident. I was blown away.
How are things at The Bailey Agency School Of Fashion? What's the status of your 'Cynthia Bailey Model Search' and other projects?
The Bailey Agency School of Fashion has been in business for almost 4 years now, and is doing extremely well. My school is a great empowerment platform for me to give back to the community, and educate young talent about the business of fashion. We have many success stories, and have changed quite a few lives. Our contests, workshops, pageants, and searches are hugely successful. We just finished Camp Bailey (an empowerment workshop for young girls), and my 2015 Cynthia Bailey Model Search is next. We got an amazing response has been amazing! It is coming up in August, and we had over a thousand registrants. It is still not too late to register. Click on www.thebaileyagencyschooloffashion.com for details. Follow @thebaileyagency on IG for upcoming classes, workshops, contests, searches, pageants, news, castings and events.
Congrats on your 5 year wedding anniversary with Peter. What did you guys do to celebrate this year? How have you managed to stay strong and grounded while being on a hit reality show, raising a teenage daughter and running multiple businesses?
Marriage is not easy. Especially when you work on a reality show together. We are the only couple that has actually gotten married on the show. Every year of our marriage has been aired on The Real Housewives of Atlanta. The good, and the bad. The up's, and the down's. So every year that we are still together is a big deal. A very big deal. Making it to our 5 year anniversary is a blessing. We plan on taking a trip together to celebrate the month of December. I would love to go to the Maldives. We are still deciding. As long as there is a beautiful beach, a spa, great food & cocktails, and no tv, I'm good.
Noelle recently celebrated her Super Sweet 16, how was that?
Noelle had an amazing Sweet 16! She is a great girl, and turning 16 is a big birthday, so we went all out. Diggy Simmons and Trevor Jackson performed. She also got a car. I don't want to give too many details because it was filmed for David Tutera's Celebrations on the WE network. The most important thing is she was very happy. Stay tuned, and make sure you guys check it out!
You recently came up with 'Cynthia Bailey Eyewear Collection'. Congratulations-that is super neat! What inspired you to launch this?
I love fashion, and I really love accessories. Fashion is not about labels, or how much things cost. It is about your personal style, and how you put it all together. I think the right eyewear accessory, can give your outfit that extra pop it may need. I wear tons of fashion eyewear on the show, and thought eyewear would be the perfect leadout for my accessories business. I have sunglasses available at www.cynthiabaileyeyewear.com. I also plan for adding fashion glasses, and readers.
At the Season 7 Reunion, it was way different than what was to be expected and previous reunions. In my opinion, it was more understanding each other's perspectives. How did you think the reunion turned out in your opinion? Anything that shocked you?
I love our reunions. For me, it is an opportunity for clarity, forgiveness, and closure. I always look forward to wiping the slate clean, and starting fresh. Who has the energy to be mad at someone forever? I am always willing to have the conversation, apologize, forgive and move on.
You and NeNe had a true and genuine friendship on and off camera. At the reunion, you both spoke about what tore your friendship apart. What is the status of your relationship with NeNe today?
Nene and I are in a good place. i texted her when I heard she was moving on from the show, and gave her my congrats and well wishes. Noelle invited her son Brent to her Sweet 16th birthday party, and NeNe made sure he was there. Noelle was so excited.
During season 7, you landed a role in Kenya's TV pilot 'Life Twirls On'. Have you been taking any acting classes since? What is your dream role?
Modeling was always my focus for years, however, I have done some small acting roles throughout my modeling career. I had a blast playing the role of CeCe in Kenya's pilot LIFE TWIRLS ON, and now I have decided to focus on my acting career. I am taking acting classes, and look forward to TV and film opportunities. My dream role would be to play Diana Ross in the remake of Mahogany. I think Taraji P. Henson was born to play that role, but just in case she isn't available, I might be able to clear my schedule!
NeNe announced that she's leaving Real Housewives after seven seasons. In my opinion, the show isn't about one person, more of an ensemble cast. Would you agree? What are your thoughts on her leaving?
I wish NeNe well. I applaud her for stepping out, and exploring other opportunities. You cannot evolve, and grow if you stay in one place. She is one of the hardest working women I know, and I believe she will be just as successful in her next endeavor as she was with The Real Housewives of Atlanta. I am excited to see her next chapter.
With NeNe and Claudia leaving, how do you think their absences will affect the group next season? Who would you like to see for the new season? Is it true that Kim Fields is joining the cast?
NeNe will be missed on the show. In my opinion, she is the original Atlanta Housewife. Claudia was a great addition to the show. I really hope to see her back. New blood is always good. I think we should throw a couple of new ladies in the mix. New people always change the dynamics of the group. I also heard Kim Fields was joining the cast. I guess we will have to wait and see.
You seemed to get a lot of heat this past season from some of the other ladies and fans/viewers for being more outspoken and sharing your opinions. Why do you think that is?
If I'm too nice, I'm boring. If I call it like i see it, i'm a mean girl. There are, and have always been some mean girls on the show, but I can assure you that I am not one of them.
What advice can you give to the next new Real Housewives cast member(s)?
Walk in your truth, and make sure you have the support of your friends and family. You will need it.
How do you think social media has affected your journey on the show?
Bittersweet. I can do without the negativity. I love to know what the fans think about the show, but some cross the line, and go too far. The Real Housewives of Atlanta is a TV show that is meant to be entertaining. Watch it, be entertained, and go on with your life. It is really sad that some people actually take the time to spew hate about someone they only know from TV. I have zero tolerance for that kind of ignorance. I block it, and move on. I never use social media for hate. I use it to promote my businesses, empower, inspire and spread love.
Many people wonder why Real Housewives of Atlanta is the number one rated reality TV series. Why do you think that is?
We are the most relatable. There is always something or someone on the show that the viewers can relate to.
What can we look forward to seeing from you on Season 8 of Real Housewives of Atlanta?
You can look forward to seeing me continue to walk in grace, and be a class act. As a businesswoman, mother & a wife, I also hope to show more of my growing empire, and my family life. Juggling family & career is difficult to balance, and both are a priority for me. I am looking forward to having more fun & less drama with the ladies on the show. I understand that most reality shows thrive on drama, however I think when the drama goes from "fun shady drama" to "mean evil drama", the show becomes really dark and uncomfortable to watch.
Where can fans and readers find you and keep in touch with what's next for you?
Follow me on Instagram, Twitter & Facebook:
cynthiabailey10 for updates on all things Cynthia.
To check out my sunglasses: www.cynthiabaileyeyewear.com
Follow www.thebaileyagencyschooloffashion.com for information and updates regarding The Bailey Agency.
Cynthia, thank you again for this interview! I genuinely support everything you're doing! Any shoutouts you'd like to give? What are some things you want the fans, supporters, viewers and readers to know?
First, I would like to thank you John. You have been team Cynthia for years now. Your dedication, and consistency has not gone unnoticed. I appreciate you from the bottom of my heart. I also would like to thank all my supporters for their continous love, kindness and support. Your words of encouragement mean everything to me, and is always right on time. Reality TV looks easy from your living room couch. I assure you it is not. There have been many days that I wanted to walk away from all of it. However, as a woman of God, I know that I have my plan and God has his. I have faith that my God has put me exactly where he wants me to be. So here I am.
Comments
comments